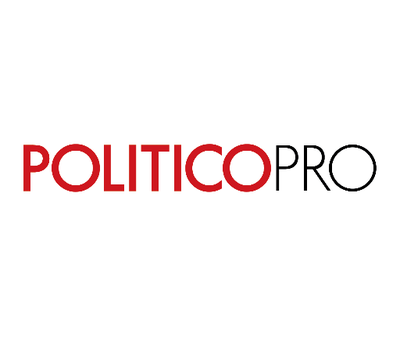 Foto: PoliticoPro
9. März 2022
:
Strategic autonomy and trade
Make trade free again, EU industry pleads: A large swathe of the EU's industry — represented by 25 trade associations — is asking the Commission to move ahead with its open trade agenda, in a joint statement issued Monday.
The strategic autonomy battle: The statement came out on the same day as that French Council presidency held a conference focused on the concept of "strategic autonomy" and trade. Interestingly, the industry statement makes no mention of "strategic autonomy," instead calling for "openness" to boost the bloc's competitiveness on the world stage and take a proactive approach.
"The focus of the EU 2021 trade policy review was to create an open and assertive trade policy. Since then, a number of proposals aimed at creating a level playing field have been put forward and updated, but progress has been more limited on the proactive front," the statement reads. "Our organisations want to stress the importance of openness, particularly regarding the bilateral Free Trade Agreements agenda."
What needs to happen: EU businesses want the stalled trade deal with Mercosur to move ahead. They also want Brussels to advance talks at the EU-U.S. Trade and Tech Council, which they say "should lead to negotiations for a Free Trade Agreement" — an interesting call given how taboo the topic of a full-blown FTA with the U.S. has been over the past few years, ever since the TTIP talks disintegrated in 2017. The business groups also want talks with India and ASEAN countries to move forward — the EU is negotiating with Indonesia and talks with Thailand, Malaysia and the Philippines are "on hold," according to the Commission.
DG Trade seconds that: "Russia's invasion of Ukraine has a profound and lasting impact on the geopolit ic a l and geoeconomic situation. Strengthening EU ties with reliable partners through trade agreements has to be a priority," DG Trade's top civil servant Sabine Weyand wrote on Twitter while retweeting a post by Malte Lohan from the industry organization Orgalim.
MEP Lange nods to Chile, Mexico, New Zealand: Bernd Lange, chair of the European Parliament's trade committee, invoked similar reasoning and alluded to some future FTAs that are lined up: "In the current context where international rules are broken without justification and multilateralism is under severe threat, our EU trade agreements with Chile, Mexico and New Zealand can all the more serve as stabilising elements that uphold a rules-based international system," he tweeted. It's worth noting that Australia is missing from that list.