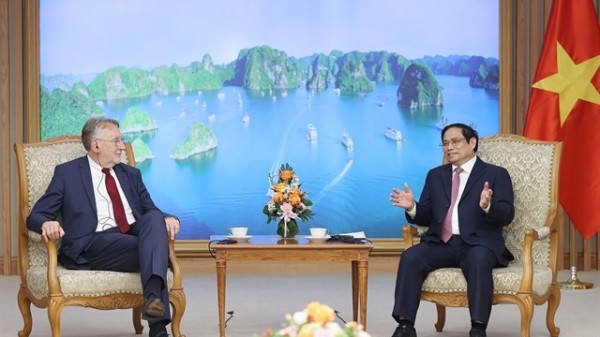 Foto: Photo Dương Giang
12. September 2022
:
Prime Minister seeks enhanced investment relations wit the EU
PM Chính also expressed his satisfaction with the positive developments in the comprehensive cooperation between Việt Nam and EU.
Prime Minister Phạm Minh Chính yesterday met with Bernd Lange, Chairman of the European Parliament's Committee on International Trade (INTA) during his visit to Việt Nam, emphasising that the EU is an important partner.
Underlining that trade-investment cooperation is a key pillar in Việt Nam - EU relations, PM Chính said that the EU-Vietnam Free Trade Agreement (EVFTA) had been making positive contributions to two-way trade between the country and the EU.
PM Chính also expressed his satisfaction with the positive developments in the comprehensive cooperation between Việt Nam and EU, especially the cooperation frameworks in politics, economy - trade - investment, forestry, defence-security, and the regular dialogues in these sectors.
The Vietnamese leader requested that the EU continue to create favourable conditions for Việt Nam's exports to enter the region, and that the EU soon ratify the EU-Việt Nam Investment Protection Agreement (EVIPA) to further promote economic relations between the two sides.
It was also suggested that the union soon remove the "yellow card" in fishing and continue to support Việt Nam in taking measures against illegal, unreported, and unregulated (IUU) fishing.
Regarding the environment and climate, the EU was asked to continue creating favourable conditions for the negotiation towards the establishment of the Just Energy Transition Partnership between Việt Nam and the Group of 7 (G7).
Việt Nam also supported the strengthening of the ASEAN - EU strategic partnership.
During the talks with PM Chính, INTA Chairman Bernd Lange said that the European Parliament always supported the enhancement of Việt Nam - EU relations in all aspects, especially in the context where many EU policies aim at the Indo-Pacific region which includes Việt Nam.
Lange also gave high regard to the country's achievements in pandemic control and economic growth, and the commitments in the EVFTA.
The INTA Chairman said that Việt Nam was an attractive investment environment in the turbulent global context, and agreed to promote the ratification of the EVIPA.
Việt Nam also presented great cooperation potential in climate change adaptation, environment protection, green growth, and energy transition, said Lange.
The EU was executing multiple strategies and initiatives in green transition such as Fit for 55 and Global Gateway, and the INTA Chairman believed that Việt Nam and the EU would see many successful collaboration projects in this field.
Speaking about the energy transition partnership between Việt Nam and G7, Lange said that EU was actively working with the UK as coordinator to promote the establishment of this framework. — VNS